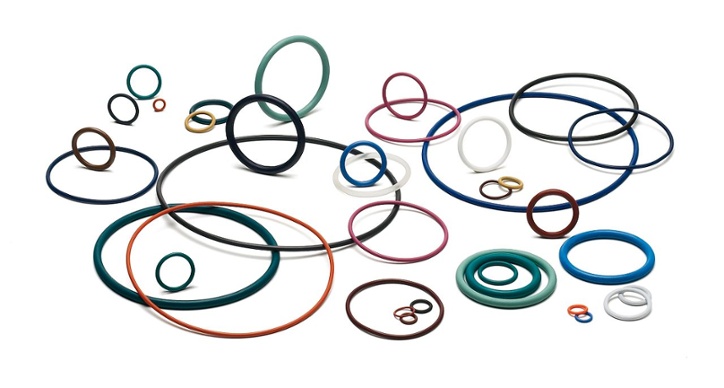 Industrial O-rings come in a staggering variety of materials, shapes, sizes, and even colors. Wyatt Seal works with industrial clients all over the country to supply O-rings of all kinds, and we work with clients often to produce custom O-rings for specific applications.
What are some of the most commonly-requested materials for industrial O-rings? Here are five O-ring materials to know.

PTFE
PTFE (Polytetrafluoroethylene) O-rings are one of the most commonly used. Used for flange and axial static face applications, the material is highly resistant against chemicals. PTFE O-rings are also high temperature resistant (up to around 500°F), making them impervious to almost all fluids and gasses even in high-temperature environments.
EPDM
EPDM (ethylene propylene diene monomer), is a rubber material that has an excellent resistance to heat (although not as high as PTFE) and is resistant to a variety of alkali and oxygenated solvents. It is also prized for its ability to withstand most brake fluids within hydraulic applications, although EPDM is not recommended for use with gas, petroleum, oil/grease, or hydrocarbons.
Silicone
Silicone as a material offers excellent heat resistance and set resistance. The term "silicone" actually references a family of polymers, the most common of which is silicone rubber. O-rings made of silicone are recommended for use in dry heat, but not for applications that include acids or brake fluids. Silicone O-rings are widely used in manufacturing, pharmaceutical, and electronics.
Kalrez®
The term "Kalrez®" is proprietary to DuPont™; O-rings made from Kalrez® are only available through authorized distributors. Kalrez® O-rings are an FFKM, offering extremely high heat resistance and chemical resistance. They are compatible with petroleum oil and chlorine and are commonly used for oil and gas industry applications as well as in food manufacturing.
Neoprene
Neoprene (as well as chloroprene) are common O-ring materials used for processing. They offer good mechanical resistance and excellent permeation resistance and are often found within the energy sector. They are resistant against a wide variety of chemicals including most acids, Di-Ester lubricants, bases, steams, and more. Neoprene is one of the most cost-effective O-ring materials available.

Wyatt Seal is your expert in O-rings. We've spent decades gathering first-hand knowledge of how different material o-rings perform under different conditions. If you have questions about which material is ideal for your O-ring application or even whether the material you're currently using is incorrect for your application, reach out to us today.
Wyatt Seal isn't just an O-ring supplier, we're a full-service O-ring consultancy team.