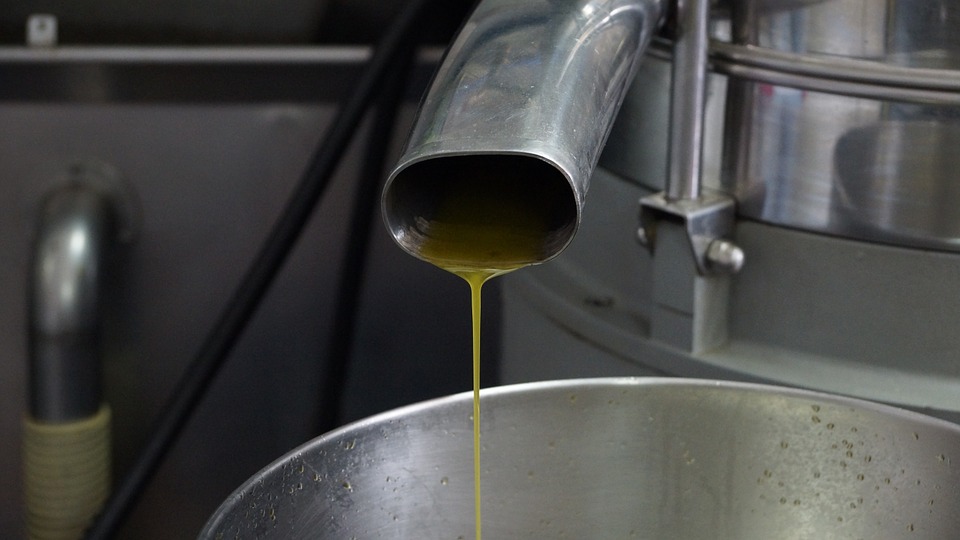 When an O-ring is said to be "food grade," it's understood to meet a rigorous standard of quality and cleanliness. The seals used by food manufacturers must be designed to perform in extremely hostile environments. Chemical contaminants, steam, high temperatures, and other extreme conditions are commonplace within food processing.
The seals used in food production, packaging, and processing must be designed to perform in extreme environments. From steam to high temperatures, click the infographic below for a look at which qualities matter most for food grade seals.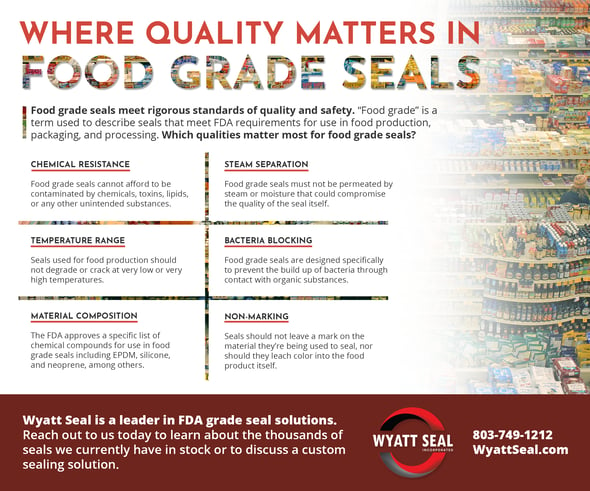 Food Grade O-Rings are FDA Grade O-Rings
The Food and Drug Administration (FDA) has approved a variety of materials for use in sealing products designed for food and/or pharmaceutical production. These materials have been tested to perform under a variety of conditions and must meet intensive quality standards.
FDA grade seals – commonly known as "food grade seals" – must resist the build-up of bacteria as well as the intrusion of chemicals. They must be non-marking and non-toxic and they must also be non-allergenic. They are required to be reliable under a wide range of temperatures, particularly very high temperatures.
What Makes an O-Ring Food Grade?
In short, the material an O-ring is made out of is the most important factor in whether or not it can be designated FDA grade or "food grade." Food grade O-rings must meet (and ideally, should exceed) the minimum requirements from the FDA for material makeup.
Food grade seals are subject to quantitative requirements for their initial construction; they must be made exclusively of FDA-approved materials, both natural and synthetic. There are strict limits on their use for extractable products and for use with aqueous or fatty foods.
Common Food Grade O-Ring Materials
There are over a dozen materials that meet the requirements of the FDA for use in food applications. A few of the most commonly-requested include:
EPDM: Ethylene propylene diene monomer O-rings are designed to withstand a wide array of temperatures as well as resistance against phosphate esters and lipids. EPDM is perhaps the most widely-used food-grade O-ring material.
Nitrile Rubber: Nitrile rubber (butadiene acrylonitrile) is commonly used for food, medical, and cosmetic processing. It has excellent impact resistance and remains flexible throughout temperature cycles. Nitrile rubber is known for its durability even after repeated daily cycles.
Fluorocarbon: Fluorocarbons don't absorb water and are known for their excellent high temperature resistance. They are ideal for use in applications in which steam or hot liquids are present and are in fact high-performing enough to be used in aerospace applications.
Neoprene: Highly resistant to oils, neoprene is also nearly impervious to ozone and the effects of ageing. An early alternative to natural rubber, neoprene is widely used for refrigeration and other food transport and storage applications.
Silicone: Silicone has quickly become one of the most popular food grade O-ring materials. It is highly stable and has one of the widest operating temperature ranges available today. It is an ideal material choice when the avoidance of cross-contamination is a priority.
Wyatt Seal is a leader in the distribution and manufacture of food grade O-rings. We carry a wide array of in-stock seals from the leading names in industrial sealing. Wyatt Seal is proud to offer a variety of Parker O-Rings, Kalrez® o-rings and custom o-rings to support every project's unique needs.
Would you like to learn more about Wyatt Seal's selection of O-rings? Reach out to our team today.